The Eygliers Inn team welcomes you to Mont-Dauphin Guillestre, in the Hautes Alpes, at the confluence of the Durance valley and the Guil valley. Less than 20 minutes from the Vars and Risoul ski resorts and the Queyras ski resorts, the Auberge d'Eygliers is also less than 30 km from the Serre-Ponçon lake to the south and the Serre-Chevalier ski area. North.Overlooked by the Mont-Dauphin fortified town built by Vauban and listed as a UNESCO World Heritage Site, our hostel will satisfy your gourmet desires, such as your need for sleep.The Hautes Alpes are full of invitations to practice sport: canoeing, rafting, skiing, cycling, climbing, free flight, kite surfing, swimming, paddle. You will find close to our Hotel Restaurant all you need for a pleasant stay in Eygliers.
A unique menu, but a willingness to serve you what you love to eat:
Vegetarian Diet, Vegan, Gluten Free …
Ask us, we will adapt as far as possible!
Our Hotel Rooms




in Eygliers
We have 10 rooms of different sizes and configurations. Each is equipped with a bathroom with towel and soap, a TV and WiFi.
Here, overlooked by the stronghold of Vauban, our Hotel in Eygliers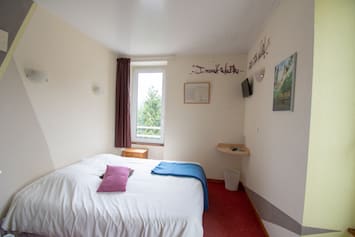 Double Rooms
Our double rooms are equipped with comfortable bedding in 180 cm, a bathroom with toilet. Each room has a particular graphic universe. Sunny in the morning with the view of the stronghold of Mont-Dauphin, or sunny at night with a view of the mountains of the Hautes Alpes.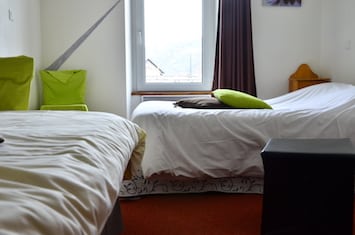 Triple room
Our triple rooms are equipped with a double bed in 160 cm and a single bed in 90 cm. Ideal for single-parent families or for a group of friends, these rooms are equipped with a shower room with WC. Each room has a particular graphic universe.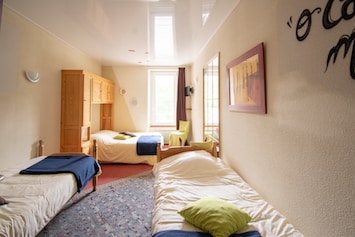 Big Room
Enjoy a moment in family, with this room in which the key words are conviviality and reunion. Two single beds of 90 cm and a double bed in 160 cm for a stay in parentheses for children and adults in various graphic universes.
Il n'y a pas de service de restauration les lundis soirs, hormis pour les résidents de l'auberge s'ils le souhaitent. La réservation est obligatoire. C'est du dépannage car l'établissement ferme à 20h. Pour les clients qui arrivent après 20h, les plats seront à chauffer par leur soin.
MARDI > VENDREDI
06:30 – 21:00
LUNDI > VENDREDI
12:00 - 14:00
MARDI > VENDREDI
06:30 – 21:00